2023 Holiday Season
Open House Dates
NO APPOINTMENT IS NECESSARY
11:00 AM - 5:00 PM
Furr-ocious festivities await you at our Cat Mewseum this holiday season! Step into a whisker wonderland where each exhibit is adorned with clawsome Christmas cheer. From Santa Claws to Meowy Christmas trees, our exhibits are the cat's meow of holiday decor. Don't miss the chance to be whisked away by the magic of a purrfectly decorated museum – it's the ultimate claws for celebration! Grab your friends and family, and join us for a feline festive experience that'll have you saying, 'Meow-ry Christmas to all, and to all a good night!
Black Friday Cat Extravaganza
Festive Feline Wonderland
We offer tours, by appointment Monday - Friday 5:00 PM to 8:00 PM and on the weekends after 11:00 AM with 24 hour notice so we can un-human the museum. 
View our feature on
PBS Wisconsin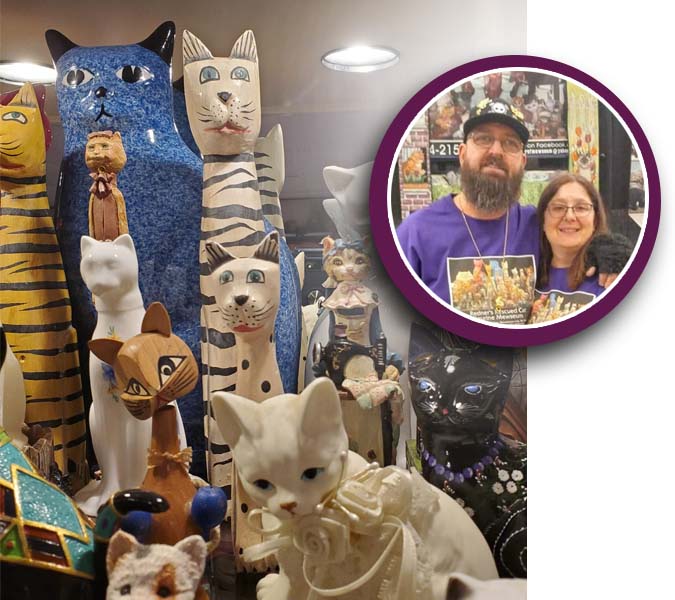 Redner's Rescued Cat
Figurine Mewseum
Our non-profit cat figurine museum, an official 501(c)(3) organization, is owned and operated by myself (Shawn) and my wonderful wife (Hilary). We are located in Menomonee Falls, Wisconsin. We offer tours, with 24 hour notice by appointment Monday - Friday 5:00 PM to 8:00 PM and on the weekends after 11:00 AM. On the 3rd Sunday of the month, no appointment is necessary. To schedule a tour, or for more information, please contact us.
We are proud to give back to our community by donating all entry fees to cat shelters and rescue groups. By visiting our Mewseum, not only will you get to enjoy a wonderful collection of cat figurines, but you'll also be supporting a great cause.
Cat Mewseum
HOW WE STARTED
Redner's Rescued Cat Figurine Mewseum came together as a happy accident. It was the summer of 2018 and I had stopped drinking alcohol on April 9th of that year. I needed something to do to occupy my time. So, on a whim I said to my wife "let's go find some cats" and we headed off to some secondhand shops to find some cats. When the first few pieces of "cat stuff" were purchased, I had no intention of opening a cat figurine mewseum. Going to look for the cats was a way to spend time with my wife, a way to stay away from alcohol and it turned out to be a lot of fun. So then began the weekends of secondhand shopping looking for more cat figurines and cat stuff and anything that was cat related. About a year and a half later I looked around our house and said, "I have a great idea, we're going to open the house to the public one day a month, we're going to ask for a $5 donation and we're going to give all the money away". And that is when the idea for Redner's Rescued Cat Figurine Mewseum had come to life.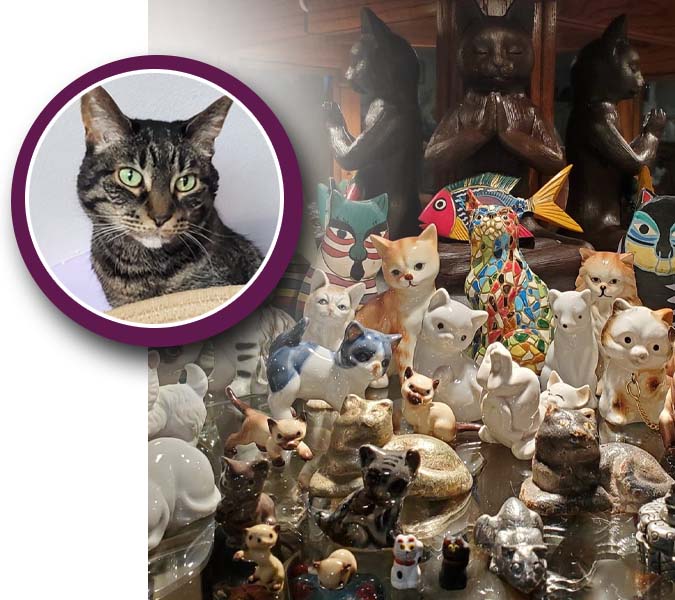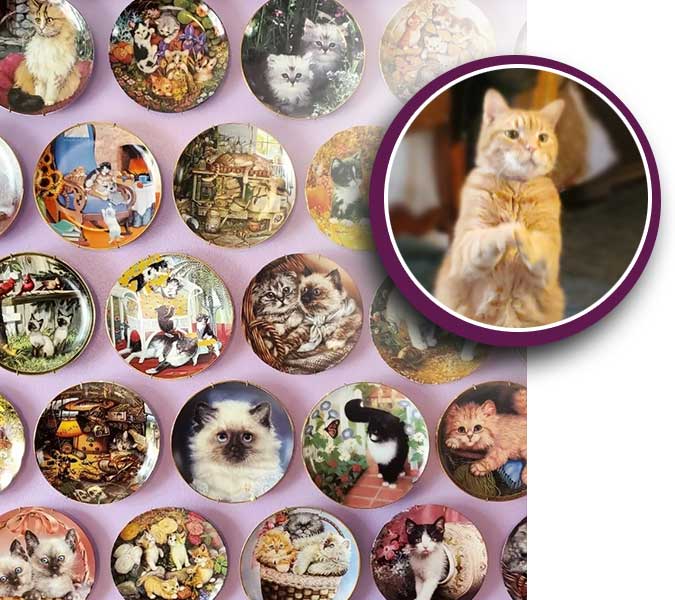 Redner's Rescued Cat Figurine Mewseum
Moving Forward
We have come a long way since the beginning. We have traveled thousands of miles, have met a lot of wonderful people, and made many memories collecting the things you will find here at the museum.  This place has grown into much more than simple cat figurines. It has become a place of hope, joy, happiness and giving. I only mention the part about my drinking because honestly, if I had never become an alcoholic, I do not think any of this ever would have happened. I am still sober today. Life has a funny way of working things out. If you are out there struggling, please reach out for help, do not give up hope, please keep on fighting because you are worth it. With all that being said, I invite you to come on over, take a walk around the place, I promise you have never seen anything like it.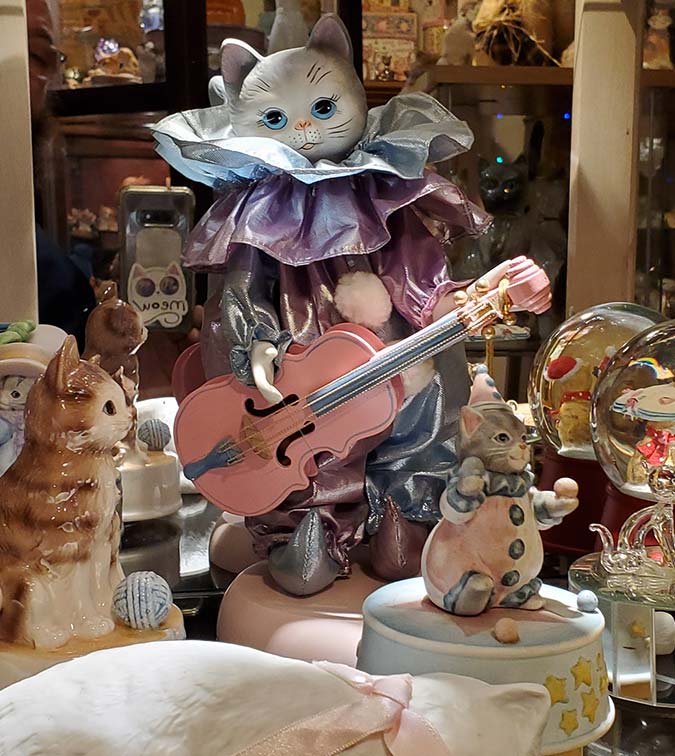 Redner's Rescued Cat Figurine Mewseum
Our Collection
Calling all cat lovers! You won't want to miss this one-of-a-kind figurine museum, which boasts an impressive collection of over 3,500 unique and highly collectible cat figurines. From playful kittens to majestic big cats, this museum has it all! Explore the fascinating world of Redner's Rescued Cat Figurine Mewseum - we promise you won't be disappointed.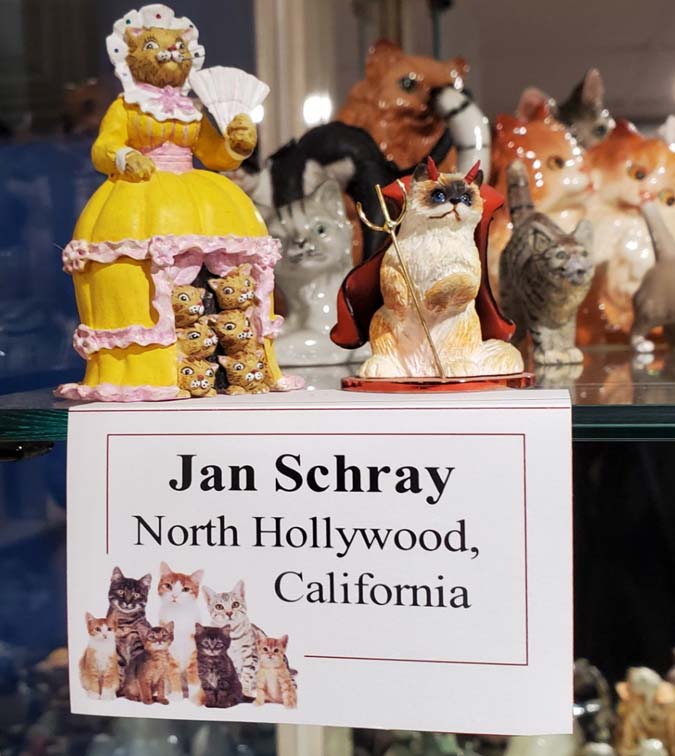 Donate Your Cat Figurines
Your Collection
Do you have a collection of cat figurines gathering dust on your shelves? Or did sweet Aunt Mabel or Uncle Mike recently pass away, would you like their cat collection to remain cherished, intact and on display? We can make that happen. Please consider donating them to our beloved cat figurine museum. Not only will your generous contribution help us grow our collection, but it will be housed with all the other donated collections, tagged, and labeled with the donor's name and city for all the visitors to see.  Depending on the distance, we can pick them up or they can be shipped. For larger collections or something we must see, please contact us for more information 
Click below to discover and view more photos from Redner's Rescued Cat Figurine Mewseum.
Redner's Rescued Cat Figurine Mewseum
Our Mission
Our mission at Redner's Rescued Cat Figurine Mewseum is to celebrate the beauty and significance of cats through the exhibition and preservation of a diverse collection of cat figurines. We strive to educate and inspire visitors of all ages about the rich history and artistry of cat figurines, while also promoting compassion and advocacy for cats in need. As a non-profit organization, we are committed to giving back to our community by donating 100% of door proceeds to cat shelters and rescue groups. All while sharing a love for cats in all their forms.
We are proud to give back to our community by donating all entry fees to cat shelters and rescue groups. By visiting our Mewseum, not only will you get to enjoy a wonderful collection of cat figurines, but you'll also be supporting a great cause
If you're considering bringing a cat into the family, please consider your local rescue groups and Humane Societies first. Adopt don't shop.
Thank you
RRCFM